There are numerous resources available to help marketers distill their mountains of data into actionable KPIs. Which of these resources is right for you?
Casinos, Brands, and More
I've been working with a client for a few months now. They work in a field that is a little off my usual path: predictive analytics. It's been a great experience as I've gotten the opportunity to strengthen my database marketing muscle. Like most muscles in your body, you never know how much they can bear if you don't use them.

The following is a recent blog post for their website.

As professionals, we all know that technology has changed the way we do business. Whether you find the increased dependence on new technology as good or bad often depends on how effectively the tools are used. Over the years, this problem has been illustrated in many ways by Stics and a variety of other experts.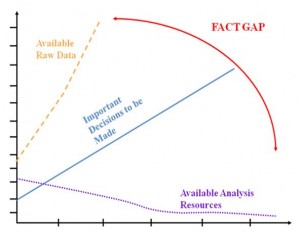 Fact Gap Graph

This particular Fact Gap illustration was first attributed to the Gartner Group. It will help us describe how data…
View original post 414 more words